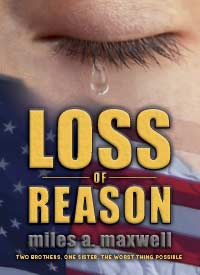 Loss Of Reason: A Thriller (State Of Reason Mystery, Book 1) by Miles A. Maxwell
If your sister lived New York City when it was hit by a nuclear bomb would you take the slimmest chance to try to save her?
Step-brothers Franklin and Everon are determined to find and save their sister Cynthia, her husband and infant child. An exciting tale of love and sibling-hood.

Targeted Age Group:: Adult audiences only
Heat/Violence Level: Heat Level 4 – R Rated
What Inspired You to Write Your Book?
Long before 9/11, Miles used to lie in bed at night in his apartment on Manhattan's Upper West Side — just across the park from where Cynthia, Steve and Melissa would be living — and listen to the sirens. Wondering when someone would drop "The Big One" on The City . . . The city government itself was encouraging twenty-four hour personal survival kits — food, medicines, other critical essential personal items (Search: Preparing for emergencies in New York City) . . . he wondered how the millions of survivors — if there would be any — could possibly escape.
As time went on, whenever Miles would leave The City for a day or so for one reason or another, he would return with a creeping, growing, building sense of dread. Driving toward that beautiful skyline on I-95 or the 1 & 9, he would look at the skyscrapers and think, "Could this be the day?"
But he stuck with The City. It was his home. To excise the paranoia, he spent his spare time writing the beginnings of this story: Loss Of Reason . . .
How Did You Come up With Your Characters?
The tale developed organically. It demanded certain qualities, talents, weakness, philosophies, strengths and shortcomings — the things people are made of.
Franklin and Everon, two step-brothers, were naturals. Everon, even by the sound of his name, Ever-on, is a man of action. As creator and owner of a solar panel power company of several hundred people, he has little time for second-guessing his decisions. A pilot who can fly anything, he's a man of the air, unafraid of anything except rough water — unlike Cynthia, the half-sister he and Franklin set out to find and rescue.
Everon is already somewhat famous in certain circles, especially with women, who for the most part adore him. He is, however casually, searching for a certain type of woman.
Franklin is much more retrospective. Not particularly wild about flight, he's a man of the earth — okay as long as he's connected to the ground in some way. He's a deeper thinker than Everon, more introspective. He's not afraid to act decisively either, as long as he's thought things through first.
Though he's the younger brother, Franklin has the most potential for growth. At thirty-three, a minister and former army ranger, he's never had sex — something meeting media producer Victoria changes. Sex is not merely a physical act. Ninety percent is mental, and she becomes the catalyst of great impact on the way he thinks, views the world, his goals and how he reacts to personal loss and devastation. And in the process he helps Victoria grow as well.
---
Book Sample
Something passed Penobscot — the Coast Guard cutter assigned to break ice and patrol the harbor waters. The sonarman scored a tiny blip on his scope. Recorded electronically for eight seconds, it just as suddenly disappeared. It moved so slowly, the cutter's computer-aided sonar classified the blip as BIOLOGIC — an aquatic vertebrate — and removed it from the screen.
Ever since 9/11, one cutter or another was always on patrol in New York Harbor. Time heals all wounds though, a scab never as motivating as open flesh — and the sonarman too, discounted the blip as the movement of a very large fish. Erased it from his mind.
Penobscot continued north.
The fish swam silently past two small private boats, moved beyond the Statue, halfway between Liberty and Governors Island, swung east of the Hudson River. And northeast into Upper New York Bay.
When it reached the triangulated center of three transmitter signals — the fish swam faster, rising upward. As it crested the surface, a valve opened. From a chamber inside, not unlike a long scuba tank, highly compressed air blasted through a nozzle in the fish's tail. It rocketed above the surface. For every foot gained, its potential was multiplied.
A little girl in a party hat, on her way to celebrate her eighth birthday, a dinner visit to the South Street Seaport, held her mother's hand as they walked along the pier toward the bay. "Look, Mommy," she pointed. "A giant fish!"
It was the last thing she ever said; the last thought she ever had; the next-to-last sound she ever heard.
As the fish reached the zenith of its arc, opposing charges in its belly imploded toward each other at high velocity. Eighteen nanoseconds and it all became nothing more than a ball of pure expanding energy.
---
Links to Purchase Print Books – Click links for book samples, reviews and to purchase
Buy Loss Of Reason: A Thriller (State Of Reason Mystery, Book 1) Print Edition at Amazon
Links to Purchase eBooks – Click links for book samples, reviews and to purchase
Buy this eBook On Amazon
Buy this eBook on Barnes and Noble for Nook
Buy this eBook on Smashwords
Buy this eBook on iBooks
Buy this eBook on Kobo
---
About the Author
Please join Miles A. Maxwell's email list
For joining the author's email/newsletter list you will get:
Free Books
Learn more about the author on their website
Follow the author on Amazon
Find the Miles A. Maxwell on Social Media:
Facebook
Twitter
Goodreads
All information was provided by the author and not edited by us. This is so you get to know the author better.