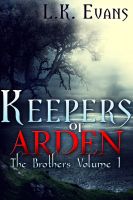 About Keepers of Arden: The Brothers Volume 1 by L.K. Evans
Promotional Details: 100% of profits from 05/01/14 till 05/15/14 will be donated to the ASPCA (American Society for the Prevention of Animal Cruelty).
Book Blurb:
Over a thousand years have passed since the Long Wars ended and the higher gods abandoned the lands of Arden. Divided and fearful, Arden has managed to secure a restless peace.
But peace never lasts. Darkness creeps through the lands once more.
Salvarias, a man born of shadow and fire, will become hunted for his magic and a power that can grant a vile god instant victory. Only his brother, Wilhelm, can save him from not only the evil stalking him, but also the darkness that grows within.